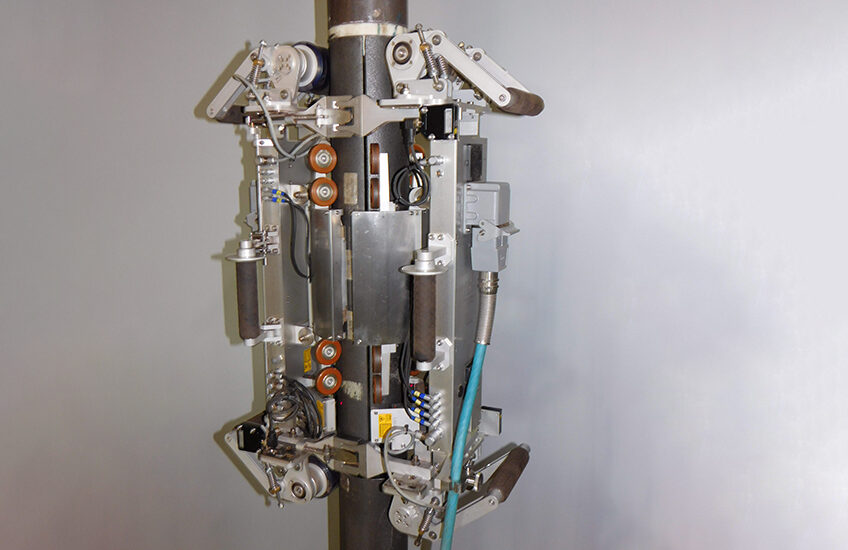 Reformer Tube Creep measurements
Eddy Current crack testing and creep detection by laser
One of the most important tasks for a reliable operation of reformer furnaces is the integrity of the reformer tubes. The early detection of creep damage and micro-cracks can lead to improved reformer operation, a better balanced furnace and better planning of tube replacement, eliminating unnecessary, unplanned outages.
External inspection
The reformer pipe scanner type RFPS is equipped with a powerful multi-channel probe array for sensitive crack detection in reformer pipes up to 23mm wall thickness. As the eddy current technique need no coupling, the readings are repeatable from test to test.
The diameter measurement by laser for creep detection is performed simultaneously to the eddy current testing. The laser modules are mounted at both sides of the scanner. By differential measurement a maximum of accuracy fort he diameter measurement will be achieved. The complete unit will be moved by an remote-controlled crawler unit allowing the passage from the furnace floor to the roof assuring a fast and reliable inspection.
Internal inspection
When the catalyst is removed an internal rotary laser and eddy current system is used.
The key benefits:
Accurate, robust and reliable by computer controlled data acquisition
Powerful multi-channel probe array for sensitive crack detection
Integrated laser module for creep detection
High inspection speed
Accurate location and sizing of features
High repeatability allowing indication monitoring
On-site reporting
JSC Inspections – we offer Non-Destructive Testing and Inspection Services for clients in the oil-, gas- and petrochemical industries, the chemical industry, the energy sector and the construction of pipelines and structures industry.